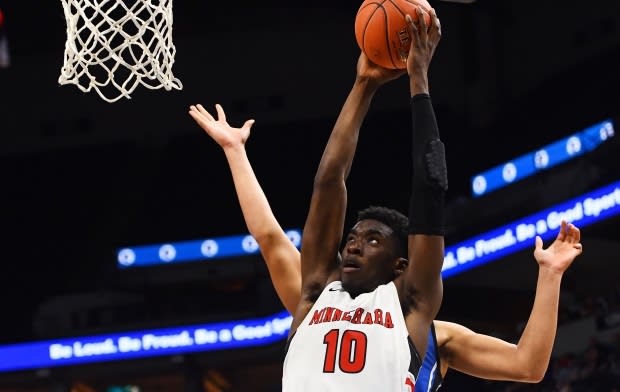 There's no shortage of 2022 rankings out there that don't include 6-foot-7 small forward Prince Aligbe.
247 Sports considers Aligbe the 55-ranked player in the class of 2022, while Rivals.com ranks him the 46th best prospect in his class. Both scouting services agree that he is a four-star rated prospect and coaches believe he can be the next best thing on the college level.
Ohio State, Auburn, LSU and USC have all offered the Minnehaha Academy (MN) sophomore this week adding to his massive list of scholarships that include Minnesota, UCLA, Arkansas, Mississippi State, Tennessee, California-Berkeley, Iowa State, Missouri, Georgia, Vanderbilt and more.
North Carolina has been showing interest as well, along with Purdue, who has been around since his freshman year, and Xavier. UNC has been to his practices and open gyms, while a lot more programs have been in contact with his coach.
With many potential opportunites arising, Aligbe is counting down the days until the contact period begins and he can start building relationships.
"There's a lot of schools right now so I haven't been able to talk to a lot of coaches," Aligbe explained. "Once I get in contact with them then relationships will start to build more."
One relationship that has been ongoing for the past couple of years has put a program amongst the top for Aligbe due to his history with one of their assistant coaches.
"California will definitely be at the top because of their assistant coach Andrew Francis," Aligbe said. "He use to coach at Iowa before he got the job at California-Berkeley with coach [Mark] Fox. So I definitely been talking to him every since I was in like seventh grade."
Ohio State is also a place that could potentially land Aligbe and they've stayed in consistent contact with his AAU coach and himself recently. After watching him at an open gym before the season started, the Buckeyes assistant coach Jake Diebler has remained in contact with his AAU coach and his parents, and treat him like a priority recruit.
"Recently, I've been talking with Ohio State and earlier this week they decided to offer me so I was happy about that," he said. "They just thought that I was their prototype. A guy that is known for more than sports but also a guy that will do anything needed on the court."
USC recently started recruiting Aligbe and has been in contact with his AAU coach. They're very impressed with his game but also how he carries himself off the floor.
"My coach told me they were going to offer soon because they like how I play and yesterday was the day that it came," he said.
This kind of week for Aligbe can be contributed to coaches realizing that there's more to his game than his athleticism. Minnehaha Academy was one of the deepest programs in the country these past two years and Aligbe has been a great teammate and played his role. Now with more opportunity upcoming for Aligbe to showcase his skills, coaches are starting to pay attention.
"Coaches are now starting to look at how I am because at first, as a freshman, they use to think that I was a wonderful athlete but they didn't know if I was a ball handler or a consistent shooter," he said. "They are starting to notice that it's not that I'm not or that I don't have those things equipped yet, it's that I haven't showed it because of my team."
"It's not a problem because we had one of the top teams in the country last year and we were so deep and everybody was playing their role."
Aligbe's role was being a two-player, impacting the game on both ends of the floor and being versatile.
"That two-way role is what [coaches] like to hear a lot but they also like to hear how I can play the one through three cause that's a role I will likely play in college," he said. "Just being versatile, being that swiss army knife and doing whatever needs to be done. So that's really what they look for and that's what they've talked about with my coaches and myself."
This season, at times, Aligbe had the opportunity to play different different positions showcasing his versatility. He learned a lot from the talented players around him this past summer and once the season came around, he was able to apply it.
"I was definitely applying all the things that I learned from last summer into this season and making sure I showed it whenever I could get the chance, and also just playing hard," he said. "Things like showing that I'm a consistent shooter and knowing when to shoot the right shot, and knowing when to give out the right pass, and also playing different positions."
"So this year when Jalen [Suggs] was hurt, I would play the one even though we already had two other point guards, but it's a matchup problem when you have someone at 6-foot-7 handling the ball, coming down hill and being able to lob it up to your seven footer."
Baring a complete shut down of the summer, Aligbe will have the opportunity to make more connections like that with his 7-foot teammate Chet Holmgren.
With the depature of key seniors, Aligbe is next man up and he's ready for the challenge, and opportunity to showcase his skills.
"When it comes to AAU, it's going to be a dynamic duo with me and Chet, and we will also have Hercy Miller, who's a real nice piece and some other nice guys," he said. "So, I think I will be able to show a lot of my overall game, and me finishing at the top, shooting, ball handling and being a smart player."
Follow us on social: Twitter, Facebook & Instagram (@ScoopmanTV)