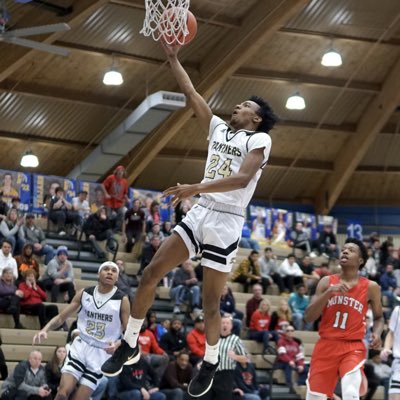 Nationwide Academy (OK) combo guard Corey Landers is very close to being the talk of recruiting circles.
As it stands now, coaches don't believe he's a qualifier, but in about a month or so, that will change.
"I'm in the midst of finishing my last course that would make me fully eligible this year," Landers explained. "So, as of now, a lot of D1's see me as not eligible. So I don't get much contact from them but hopefully in the next month when I finish the class it will open up my recruitment."
Right now, Coastal Carolina and Pittsburgh State are his only scholarship offers. Division I junior colleges Iowa Western, Tallahassee, Coffeyville and Salt Lake City, among others, have been reaching out as well.
Going to a Division I college out of high school is a goal for him, but he's also thinking about going the junior college route. He likes the idea of spending some time at the junior college level, and believes it will help his game. That option is one he will take very seriously.
"My goal is really trying to find the best fit for me that will set me up for the future," he said. "I'm entertaining these JUCOs because that's a goal for me also and would be a good option for me."
"I feel it could open up a lot and give me an extra year to get better and get stronger."
Landers began his high school career on varsity as a freshman . Throughout his process, he was being recruited by mid-to-high majors, he told me, and expects those same type of colleges to get involved once he's a full qualifier. That will ultimately be a deciding factor once he sits down with his parents, coaches and trainers and decide on his future.
"I will be leaning towards Division I if my recruitment spikes after the class," he said. "I was getting recruited by mid majors and pushing high majors, so I want to sit down and weight my options before I come to a decision."
A lot of the programs recruiting him want him to improve on his strength because they believe it will help with his overall game, but they also believe that he can come in from day one and contribute right away.
"A lot of schools want me to come and be the top scorer and I think that the least I could I offer," he said with a laugh. "I think I'm the best defender in the country. I like guarding the best player on the other team every night, I like to get my teammates involved, I'm a good rebounder for a guard and I feel like I can impact the game anyway my coaches need me to."
With the class still ongoing, Landers is still a few weeks away from making a decision. He's still in limbo about the level but that should all change in time.
"I debated making it in the next couple of weeks," he said of his decision. "But after sitting down with my moms, I think I want to finish my class first and see what everyone is saying. Then I will make my decision shortly after that."
Follow us on social: Twitter, Facebook & Instagram (@ScoopmanTV)