The NCAA landscape continues to change, especially with all the movement from Division I transfers. The transfer portal, as well as the high school recruiting populous and junior college, have given the Division I basketball coaches more avenues to pursue, presumably leading to more opportunities to revamp their roster after the season.
According to data from the NCAA, 689 student-athletes transferred in 2017, 704 student-athletes transferred in 2018 and 694 transferred in 2019, which is an average of 696 end-of-season transfers over the three year span.
About half stay in Division I, a quarter transferred to Division II, while the other quarter transferred out the NCAA (NAIA, NJCAA etc.), according to the same data set.
However, even with the NCAA transfer portal, junior college and high school recruiting, that volume is not nearly enough to offset the demand for players talented enough to compete at the Division I level. Especially with the NBA G-League's new initiative that has convinced some of the top players from the sport to forgo college.
When the history is written for the 2020 recruiting class, we will find that there were far more demand and not enough supply, leading more college coaches to pursue alternative methods to fill their rosters.
Back in January of 2020, the NCAA voted to replace the permission-to-contact transfer rules at the Division II level and instead replace it with a tool that has made athletes even more accessible than before and eliminates the limitations an institution can place on a student-athlete.
The transfer portal at the Division II level, which is set to start league-wide August 1st, requires programs to, "enter a student-athlete's written request for a transfer in the NCAA Transfer Portal within seven consecutive calendar days of receipt," according to a release by the NCAA.
In broader terms, entering the transfer portal adds a student-athletes name to a database allowing any coach to contact. Instead of the transfers being handled by the institution, it is now being handled by the student-athlete.
This Division II transfer portal mimics the previous portal introduced at the Division I level during the 2018-19 academic year, and the transfer rules still apply. Each student-athlete will have to sit out a full academic year before they begin playing—baring rule changes—unless they qualify for a waiver or have graduated from the institution they wish to transfer from.
Despite the rule not being fully utilized by all institutions at the Division II level, many Division II programs have already used the portal to make their student-athletes more accessible. In return, Division II players have become more noticeable to Division I programs.
Since the NCAA introduced the transfer portal for Division I programs, the number of Division II prospects on Division I rosters have started to slowly increase.
According to the NCAA, in 2017, only 11 players made the jump to Division I from Division II, while this year alone, there have been 22 student-athletes that have made the jump to the Division I ranks from Division II—double the amount of players to make a similar jump in 2017.
While there isn't a huge disparity in the raw numbers from the data, the fact still remains that this year could start an uptick in transfers from the Division II level to Division I. Not only were there 22 athletes to make the jump, but multiple athletes were coveted by 10+ college basketball programs at the Division I level.
Bryan Griffin, who starred at Mercy and finished last season atop of the Division II ranks in rebounds per game, entered the transfer portal as a graduate, deeming him immediately eligible.
And with the demand of big increasing around the March and April months, due to multiple factors ranging from players signing early, or competitive options, coaches looked to Griffin as an option to immediately improve their roster.
Griffin eventually chose Xavier following a recruiting process that included over 40 Division I programs, according to The Athletic journalist Shannon Russell, and ended with Griffin playing for a program that is a regular in the NCAA tournament.
Robbie Heath, the best freshman scorer at the Division II level last season averaging 24.6 points per game, eventually transferred to Pepperdine after hearing from Fairfield, Hofstra, Towson, New Mexico State, Holy Cross and more.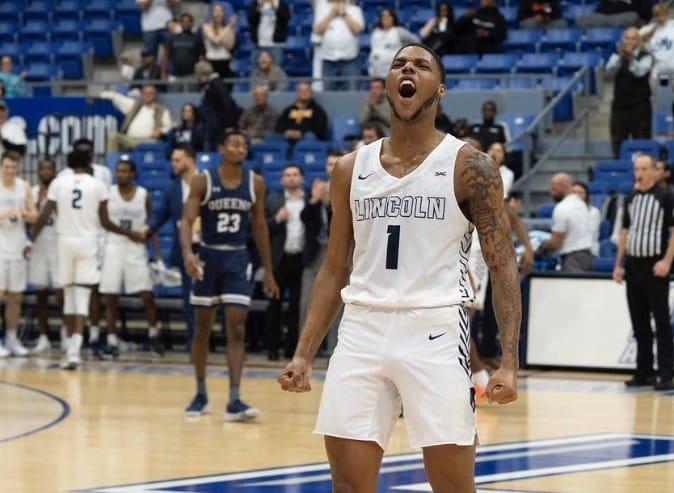 Courvoisier McCauley, a 2020 NABC Division II All-American, who received a page full of accolades following his sophomore season that concluded with him averaging 20 points and 6.3 rebounds per game, found himself on high majors radars before he was in the transfer portal for 24-hours.
McCauley heard from programs such as Georgetown, Arkansas, South Carolina, Iowa State, Minnesota, Missouri and a lot more before he eventually decided to transfer to DePaul.
With some decisions still left to be made, the number of Division II players on Division I rosters next season could continue to increase. Over the last couple of days, multiple players have announced that they were transferring from Division II to Division I.
Coaches could presumably have four options, five if we want to separate international prospects, to fill their roster moving forward.
In a time where nearly 50-percent of the transfers are transferring outside of the Division I level, it will be interesting to follow if this year will be the start of something good to come for the NCAA and the coaches for looking for talent.
Here's a look at some of the other players that have transferred to the Division I level from Division II.
Gedi Juozapaitis from Flager transferred to Georgia Southern, Winston Hill from Francis Marion transferred to Presbyterian, Darweshi Hunter from Central State transferred to Weber State, BJ McLaurin from Chowan transferred to UNC-Asheville, JT Shumate from Walsh transferred to Toledo, Justin Headrick from Trevecca transferred to Tennessee Tech, Anthony D'Avanzo from Lewis transferred to Southern Illinois, Steven Verplancken Jr from Glenville State transferred to Southern Illinois, Parker Long from Maryville transferred to Southeast Missouri State, Kayo Goncalves from Southeast Oklahoma State transferred to South Alabama, Triston Chambers from Alabama-Huntsville transferred to Samford, RJ Glasper from Arkansas Tech transferred to Oral Roberts, Mitchell Sueker from South Dakota School of Mines transferred to North Dakota, Romeao Ferguson from Belmont Abbey transferred to Lipscomb, Chris Parker from Henderson State transferred to Liberty, Tyler Moffe of Mansfield transferred to The Citadel, Michael Almonacy of New Hampshire transferred to Appalachian State, Trevor Lakes of Indianapolis transferred to Nebraska and Luke House from California (PA) transferred to Drexel.
Follow us on social: Twitter, Facebook & Instagram (@ScoopmanTV)