Two years prior, Calvin Christian School (CA) freshman Martin Gumwel was walking around South Sudan looking for a basketball court. He had just picked up a basketball for the first time and fell in love with the game instantly.
The long and coordinated 6-foot-10 forward would spend hours in a day working on his game, and once video emerged of him playing basketball in his native land, a phone call was made to get him to the United States.
"A lot of thoughts came to my mind when I first got that call," he said. "I couldn't believe that I was getting such an opportunity. It was just so amazing for me to get my first opportunity. I was so excited. I had nothing to say."
Gumwel embarked on the states with very little experience and understanding of playing organized basketball. Not a lot was expected of him from the offset but when the coaches gave him the opportunity to get valuable experience and minutes as a freshman, he took the opportunity and ran with it.
"Honestly, when I started I didn't expect anything. I didn't expect it to be one of my best seasons ever," he explained. "By the end of the season, I saw that I improved on my game and all of my teammates were also really good. That really kept me motivated because my teammates were giving me all the energy and telling me what to do. It was definitely one of my best seasons ever."
In his first season playing organized basketball in the US, Gumwel finished averaging 17.0 points, 17.2 rebounds and 2.8 blocks per game as a freshman.
The 6-foot-10 forward had 19 double-doubles, finished with 15 or more rebounds in 18 games and even had a game where he pulled down 27 rebounds. Against Mar Vista on February 25th, 2020, he finished the game with 27 points, 27 rebounds and five blocks.
Those kind of numbers speak for themselves, and considering Gumwel has three years of high school basketball left, it is safe to say we have yet to see the best of his game.
From the beginning, his rebounding numbers remained in the double-digits in every game throughout his first season, and the real story became his improving offense.
"This season, I was a bit nervous because of the amount of people and the noise in the gym," he said. "It was so loud and I wasn't use to it. But time came and I started building that confidence and it was really good for me."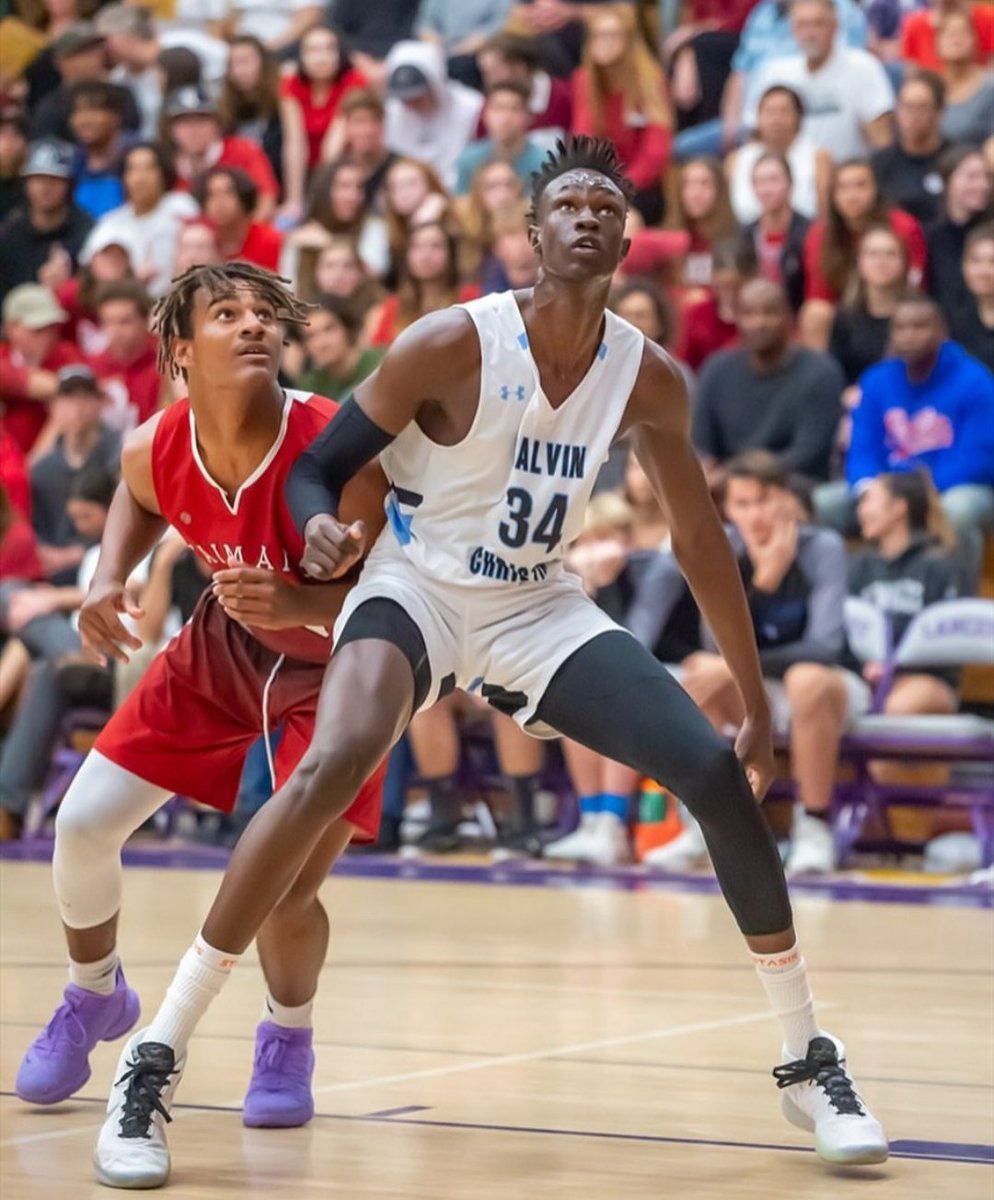 Gumwel is trying to model his game after Milwaukee Bucks megastar Giannis Antetokounmpo, who he studies and likes to watch a lot. So right now, it's all about adding more weapons to his offensive repertoire.
"I'm working on my ball handling, my shooting and my strength," he said. "That's what I'm really focusing on right now."
Like several other players his age, hardwork along with opportunity is a path he's willing to travel to get to where wants to be in the future. Back home in Africa, he had very little basketball resources. But now, in the US, situated in California, he has access to plenty of basketball resources, which he utilizes to the full extent.
"I feel like I should be in the gym all the time," he said. "I practice everyday throughout the week doing workouts, weight training and shooting. I pretty much do that all the time."
His hard work since arriving to America in September of 2019, hasn't gone unnoticed. Eastern Washington reached out to his coaches and extended a scholarship offer that had his family back home all excited.
"When they heard that I got a scholarship and that someone was going to be paying my tuition, they were really happy and really supportive about my decision to come here," Gumwel explained.
This is only the start for Gumwel. He knows there is a lot more work to be done to be done to ensure basketball takes him to places he dreams of going.
"I see that basketball is going to take me to a better place because first, I actually couldn't believe I was going to be in the United States because of basketball. That's one of the first moves that basketball has done for me," he said. "If I keep on working hard, I will be in a better place. I have more hope of becoming a pro because of my move from Africa to here."
Gumwel is taking full advantage of the opportunity before him on the basketball court, but is also putting a ton of work in in the classroom. He knows basketball isn't forever, so the education part is also very important to him as well.
"I'm working very hard. I'm giving the same energy that I put in basketball into the classroom," he said. "I'm balancing the two because, who knows? Something may happen and I may get an injury. So I have to balance the two."
Follow us on social: Twitter, Facebook & Instagram (@ScoopmanTV)